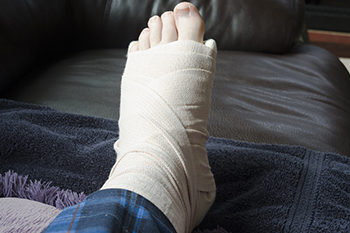 Protecting the feet against the possibility of a broken foot or fracture ought to be an important goal for everyone who is serious about maintaining good foot health. The bones in the foot can break, or fracture, for a variety of reasons. One potentially overlooked way in which the foot can fracture is from a dog bite. When a dog bites a human's foot, their strong teeth can inflict a significant amount of damage. If the dog is older, this might also lead to a more severe injury. A broken foot bone, as well as a broken leg, are often common injuries caused by dog bites. If you have recently suffered a dog bite on the foot, it is suggested that you seek out immediate health attention. Seeing a podiatrist will help you prevent infection and treat the fracture. It is suggested that you contact this health professional today.
A broken foot requires immediate medical attention and treatment. If you need your feet checked, contact our podiatrists from CNY Foot Surgery & Podiatry Care. Our doctors can provide the care you need to keep you pain-free and on your feet.
Broken Foot Causes, Symptoms, and Treatment
A broken foot is caused by one of the bones in the foot typically breaking when bended, crushed, or stretched beyond its natural capabilities. Usually the location of the fracture indicates how the break occurred, whether it was through an object, fall, or any other type of injury. 
Common Symptoms of Broken Feet:
Bruising
Pain
Redness
Swelling
Blue in color
Numbness
Cold
Misshapen
Cuts
Deformities
Those that suspect they have a broken foot shoot seek urgent medical attention where a medical professional could diagnose the severity.
Treatment for broken bones varies depending on the cause, severity and location. Some will require the use of splints, casts or crutches while others could even involve surgery to repair the broken bones. Personal care includes the use of ice and keeping the foot stabilized and elevated.
If you have any questions please feel free to contact our office located in East Syracuse, NY . We offer the newest diagnostic and treatment technologies for all your foot and ankle needs.
Read more about Causes, Symptoms, and Treatment for a Broken Foot